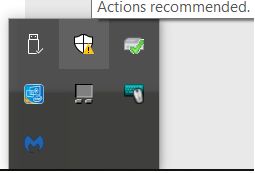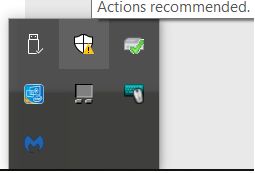 From past few months, many user's are getting Windows Defender Actions recommended notification on their Windows 10 computers. This notification comes mainly after installing any antivirus or a Windows 10 update. Many user's also noticed this notification after having a clean install.
In this case You will start getting a Yellow triangle (Caution) on your task bar with the message "Windows Defender Actions recommended". However, If you open the Windows defender Security center, you will see that all the icons are with green check mark with the message saying No action needed.
How to Fix Windows Defender Actions recommended notification ?
There are Many reasons that are resulted with Windows defender Actions recommended notification. That is the reason that there are many ways to fix this issue. Below I'm going to share some methods to fix this issue. You can try each method one by one to get the right fix for you.
Method 1: Disable Onedrive Ransomeware protection.
If you are getting this notification after Installing any antivirus or Windows updates then this is possible that antivirus you installed or the updates you installed may have disabled periodic scanning feature of your computer. If this is the case, then this method should work for you perfectly.
Open your Windows 10 settings app by pressing Windows+I buttons on the same time or you can open it from the Start menu.
Select System category > Update and Security and then click on the Windows Defender tab.
on the right side panel turn on the Periodic Scanning feature.
On the Notification area click Shield icon to open the Security center.
Scroll down to Ransomeware protection heading.
If you get the message saying "set up onedrive for file recovery option in case of a ransomeware attack" click dismiss button.
Return to disable the option periodic scanning completely.
Restart your computer and your warning sign will not be there.
Also Read > What is webroot filtering extension or How to uninstall webroot antivirus.
Method 2: Run Maintenance.
Got to Control Panel\All Control Panel Items\Security and Maintenance
Check if there is any driver or other tool pending to install. If anything is pending then install it.
Now click start maintenance. let the maintance run thrugh then restart.
After the restart your notification saying Windows Defender Actions recommended should go away.
Tht's all. If you are still getting this error or have any more question regarding the notification saying windows Defender actions recommended, you can feel free to ask me anything in the comment section below. I will feel happy to assist you with any kind of windows error.