Webroot Filtering Extension is an integrated part of Wireless Security Auditor system inside your Webroot Security Software. Whenever you Install Webroot antivirus into your system this Extension get's installed into all of your browser's. Once you open those browser's e.g. Chrome browser You will get prompted to enable "webroot filtering extension".
Once you Enable Webroot filtering extension, It will get permission to read and change all your data on the websites you visit, and manage your downloads as well.
What is Webroot filtering extension in chrome and other browsers ? and what it does to our browsers ?
If you want to know that What is webroot filtering extension in chrome or any other browser, and what this extension do, I will explain it to you in details here. Webroot Filtering Extension is responsible whenever you run any query on your browser search. This Extension Modify your search results and display each of your result with a icon indicating the safety information of each website you see in the search results Just like the image below.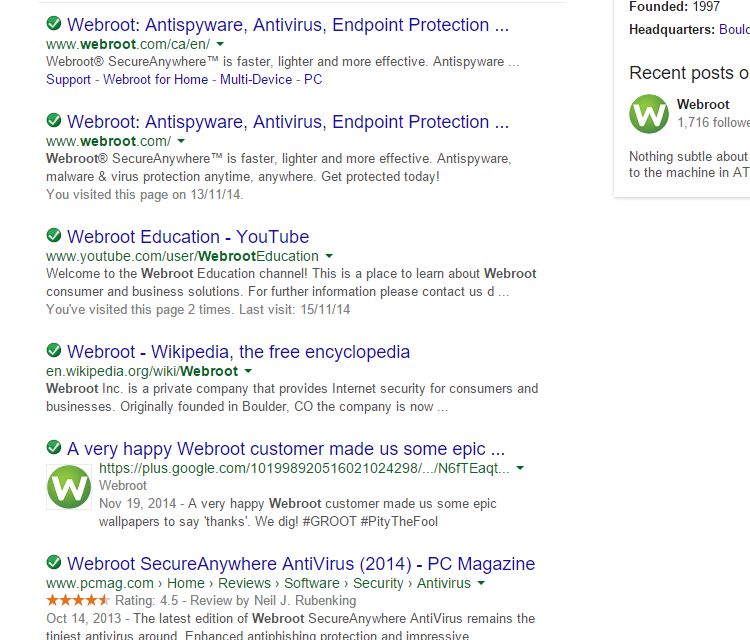 In above image You can see that each search result is followed by a green tick mark, it means those websites are safe to visit. If you get a red cross mark in front of any site, it mean's that website is not safe to visit. This is the feature what you get on your browser due to webroot filtering extension.
Should i Remove Webroot Filtering extension from my browser ?
As i already explained above that how this extension helps you while browsing, I recommend you not to remove it. I would recommend you to keep this extension in your chrome or any other browser and enjoy the safe browsing.
Also read > How to uninstall webroot antivirus from your computer step by step.
This is What is webroot filtering extension in chrome or any other browser all about. If you still have any query about this article or you want to ask me any question about webroot filtering extension, You can feel free to ask me in the comment section below.