Home security is the priority of every single person and video ring doorbells are getting popular nowadays. However, these technical functionality things may create issues anytime, just like I face. My Ring Streaming Doorbell was showing an error and I was looking for the optimal solution.
What I discovered is that a lot of people are looking for the same solution. That's why I decided to write this article so that everyone can get perpetual fixes to Ring Streaming Error. Without any delays, let's dive in together.
What causes the Ring streaming error?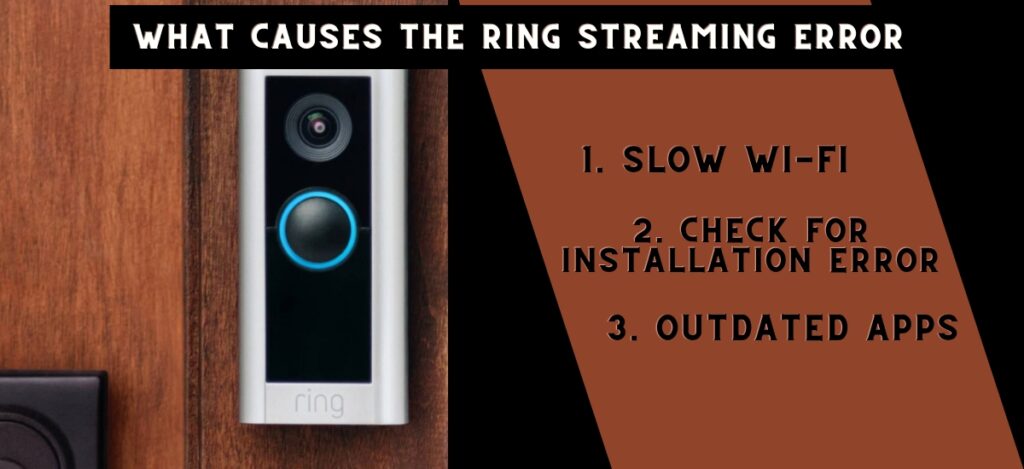 There are numerous causes of Ring Camera Streaming Errors, let us know about such causes.
1. Slow Wi-Fi 
The main cause of Ring Streaming errors is a slow or poor Wi-Fi connection. A slow-speed Wi-Fi connection will not be able to connect to live streaming from Ring Doorbell.
2. Check for Installation Error
Ring video doorbells are quite easy to install, anyone can do it easily. But still, you need to check whether the installation is done correctly or not.
No matter whether the installation is performed by technical people, they can also make mistakes. Faulty wire connections are the primary reason for such an error. You need to check whether all the wires are connected to the right inputs and outputs.
3. Outdated apps
Using an outdated app is also the reason for ring streaming errors. You just need to check the Ring app on any other device, whether it is working or not. Try to update the app to get rid of this issue and also clear the cache and cookies.
Ways to fix the Ring streaming error
No more worries if you are facing this issue. Below, we have mentioned some of the best fixes to get rid of this error permanently.
1. Check your Wi-Fi router
First, you need to check if your Wi-Fi router is giving an optimum signal or not. You need to check that your Wi-Fi has an active connection. To check its connection, try to connect some other devices if they can access the Internet.
Then you need to check that your Wi-Fi router is in the range of Ring Camera. If it is in a proper range, now just restart your Wi-Fi router because it can solve the connectivity issues that you are experiencing.
2. Connection Speed
Having an internet connection is not sufficient, your connection should have an optimum speed. The internet speed can also be the culprit to this issue. You need to check and ensure that your device is providing a speed of more than 2mbps, which is required by the Ring app.
However, if your speed is slower than 2mbps then you may face sloppy streaming or not streaming at all. Solving such issues can be a daunting task, so you should have Spotify Premium APK Latest 8.7 Free Download so that you couldn't feel bored and can listen to your favorite songs.
3. Update Ring Firmware 
Another issue that is ruining your streaming experience is the Ring Camera itself. Poor firmware can cause a lot of problems with connectivity issues. You just need to check if there is any update available for the camera on your Ring app. If there is, then install those updated immediately.
Working and listening to music always made up our minds. You can have your Tozo T12 Earbuds with Windows 11 to have a mesmerizing experience.
4. Check all the Wiring Flaws
As we have already said that installing a Ring Camera Doorbell is not a complicated task. But still, we need to be very careful while installing it. A minor wiring flaw can disrupt the functionality of the doorbell.
The basic wiring flaws can cause the camera to lose videos and other functionalities. So, you need to check if there is any misplacement of wiring or entered into the wrong input. Once you check that all the wires are connected properly just restart the device and get rid of the ring streaming error permanently.
5. Reset the Camera
If any of the issues are not working then you need to factory reset the settings of your ring camera. Resetting the camera will make a complete loss of all the saved data and preference settings. You should do it only when you have no other option left.
You just need to find the orange button on the ring camera and tap and hold it for at least 15 seconds. The ring camera will start flashing and hold it until it stops flashing. Once it stops, your camera resets successfully. It should solve your streaming error.
These are the best fixes that you can try to fix the Ring streaming error. Still, if the issue is persisting then you need to call a technician of Ring Camera Support so that they can deliver you the best solution.
How to prevent in the future for happening this error
To prevent such errors from happening in the future, you need to check that all the wires are connected to the right place. Moreover, check the Internet speed you are getting from the signal and make sure it is meeting the required criteria.
---
FAQs
Q1.Why does my Ring keep saying streaming error?
Ans. If your Wi-Fi connectivity is poor or you are using a malfunctioning Ring app. Any of these reasons will keep showing a Ring Streaming error.
Q2.Is there a problem with Ring at the moment?
Ans. Well, no server issue or maintenance work is going on, so the issue is coming from your side.
Q3.How do you fix a streaming error?
Ans. The best solution to fix the streaming error is to clear the cache and data of the Ring app and then check again whether it is working or not.