Cloud Infrastructure Services are referred to the Cloud based Hardware and Software Services such as Cloud Server's, Cloud storage, Cloud based virtual Computers and Virtual software programs.
In this modern era, many small company owner's and computer user's could not afford to buy high end server's and large amount of high level pc's for their small organizations. To fulfill their needs, many private cloud service providers are now providing Cloud Infrastructure Services to these businesses.
In these cloud Services, These virtual resources are hosted by big IT companies and they deliver thse services to their clients over the internet or a private network. These resources include Cloud storage, Virtual Computers and software's, Disk space (storage), Network Switches, Servers and much more.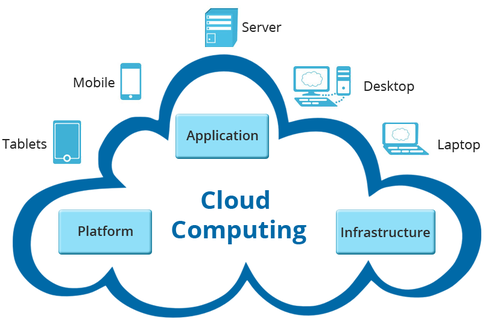 Cloud Infrastructure Services not only full-fill small business needs but also provide them the opportunity to use high end Server's, Computer's and storage services in very low budget as well as it keep their data safe on cloud.
Cloud Infrastructure Services based Job's are increasing In many countries.
In many countries Cloud Infrastructure services based jobs are increasing with very high rate. These cloud infrastructure services based jobs are not only increasing in developed countries like USA and UK but some Developing countries like India are also getting very huge spike in this sector.
If we speak about India, many IT professionals are moving from normal IT sector to cloud based sector and improving their skills. Also many IT companies and startups in India already started to enter Cloud Services Game. Many institutions in India are training their students about Cloud infrastructure services since 2010. Many IT Professional's Are considering Cloud Services as the future of Indian IT industry.
Private cloud service providers
There are many Private cloud service providers available in the market. If you are trying to start a small business with a very low budget and willing to buy some cloud based virtual computers or services. Or even if you are a student and want to try cloud infrastructure services practically, you may want to know about these private cloud service providers. Here I'm going to show you a list of some popular Private cloud service providers to end your hunger about this knowledge.

Oracle
According to Wikibon report Oracle also captured 7% of the market share in cloud services market along with HPE and VMware in 2015-16.
Microsoft
Microsoft has Hyper-V Virtualization technology integrated into it's Windows Servers. Many Private cloud Services Providers run their cloud services on Microsoft windows server with the help of Hyper-V.
VMware
According to a report by Wikibon, VMware was tied with HPE in 2015-16 and they were holding 7% of the market share in cloud infrastructure services market.
HPE
HPE's full name is Hewlett Packard Enterprise, and it's known as a leader in Private cloud services market. HPE was holding 7% of the market share in private cloud services market in back 2015-16.
Dell
As per Wikibon report Dell's EMC was holding 6% of market share alone in Private cloud services market after VMware and HPE in 2015-16.
IBM
IBM's cloud services include Hardware services such as IBM Cloud Systems, storage, hosted cloud services and Managed Services, and some cloud software.
Cisco
Cisco is very popular brand in the field of networking and router's. As per Wikibon, Cisco has 3% Private cloud services Providers market share in 2015.
NetApp
NetApp is a storage vendor and it was holding 4% of the Cloud Infrastucture services market share in 2015 as per Wikibon report.
Red Hat
RedHat is a very well known brand in linux server's market, and it offers a variety of cloud solutions based on open source softwares. It's Services include's RedHat Cloud suit management, CloudForms and many more open source services.
Amazon Web Services
Amazon Web services (AWS) is very popular in 2018 and is well known as undisputed leader in Cloud Infrastructure Services and Cloud computing. AWS does not offer private cloud services like other companies in the list, but it offer's virtual private cloud services that is running on it's public cloud infrastructure. AWS offer's the option's to create Hardware virtual private network's and many other services.