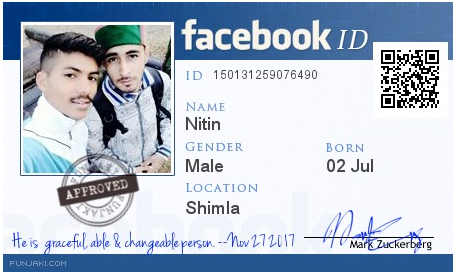 Facebook is one of the most popular Social Networks Worldwide. These day's Facebook is continuously updating new tricks for fun and other things. Get ID Card fb is one of them. You will always see your friends bringing new things and Tricks to Facebook and making them viral. If you see your friends using Facebook ID card maker in order to get Id card for fb and posting it on their timeline, You would also like to do that. If you don't know how to create Facebook ID card. Or you are getting any difficulty to Generate Facebook ID card e.g. you get stuck on Facebook id card verification. Then you would be looking for some tricks like Facebook id card verification bypass tricks. In this article I will provide you a complete tutorial to Generate a id card for you.
Steps to generate or Create Facebook ID Card ( get id card fb )
Below I'm going to provide you Two ways to Generate a Facebook ID Card, First is Where you Will have to pass a verification process and you will get your Full details on your ID Card e.g. Your Gender, Location, Name and Date of birth. In the second method you will not need to face any Facebook ID card Verification, But you will only Get your name and ID on your ID card.
Also Read> How to hide a friend on facebook
Create Fb id card With Verification
First of all If you are logged out of Facebook, then Login it by going to https://facebook.com on your browser.
Once you login, Open Funjaki FB ID Generator, from this link. and Click on Generate Id as Shown in the below Image to Generate facebook id card.

Generate Facebook ID

After Clicking on Generate ID, It Will ask you permission, to receive your public information from your Facebook account, And this is your Verification process. Here you can simply click Continue to allow this app to see your public information as  shown in the image below in order to get id card fb.

faceook id card maker

Now you have successfully generated your Facebook id card, and you can Share it on Facebook or Download it to your computer or phone by clicking on the button's below your id card.

generate facebook id card
Generate Facebook Id Without verification process.
If you don't want to share your public info with any third party app, or you like to bypass the verification process, you can simply follow the below steps.
Open Below URL into your browser
http://findmyfbid.in/facebook-id-card/
Now fill in your Facebook profile URL into the forum and Click Create Facebook ID Card.


Create FB ID Without verification

Now you are done, and you can Share or download your Facebook ID card from the below buttons.

get id card fb
Now you are all set and you can get id card fb for yourself. If you have more questions or recommendations, or getting stuck while the process, you can feel free to ask me in the comment section below. you can also read my another articles about How to see hidden friends on facebook, or How to get more followers on facebook.