Ever faced error 8024402C while checking for an update in your Windows 7? What's this error 8024402C? Everything related to this error. We are here to answer all your questions related to the 8024402C error.
First, have a look why you face this Windows 7 Update Error 8024402c-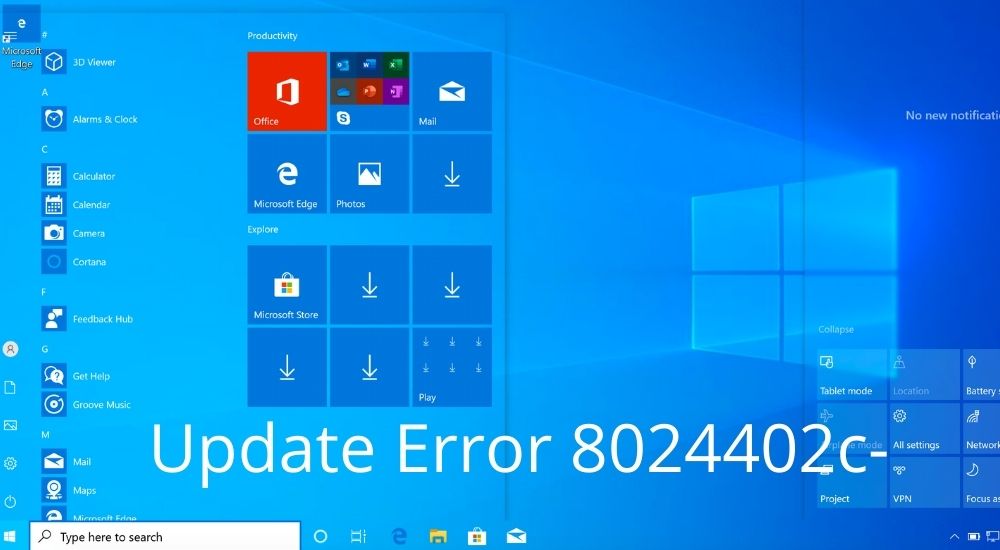 If you are facing this interruption then it's mostly due to invalid network settings or invalid update settings that you have while checking for an update in your Windows 7.
A report after a deep analysis confirms that if your computer was connected to a local network (LAN) then this error 8024402C might occur.
Apart from this, it might also occur if managed by Windows Server Update Services (WSUS). In these cases, you won't get a prior warning before this error.
So, this is a short justification with two basic cause for error 8024402C. If you are looking for some quick and effective methods to fix this, then honestly speaking you are at the right place.
But, before moving on- How to fix this error 8024402C? Let's have a look at what edges we are sure to touch.
Table of Content
What Windows Update Code 8024402C Means?
What are the Causes of Windows Update error 8024402c?
How to Fix Error code 0x8024402C in Windows Update?
Conclusion
So, ready to deep dive for all the minor to major details?
Let's get started!
What Windows Update Code 8024402C Means?
Windows Update Code 8024402C is said as an error code occurs while updating your Windows. As per some reports on Microsoft complain forum this error might be caused by a program that prevents Windows Update Services (SVCHOST) to access the internet while running on your computer.
Read More: The Advantages of 3D Modelling in Construction
Which are these programs?
Well, it's not specific or one at a time the list of programs that halt your Windows update with error code 8024402C are web accelerators, firewalls, antispyware software, Internet security and proxy servers.
If you have any of these programs running on your computer then this might be the reason. From us, it's our recommendations to turn off them while updating. However, we recommend to turn on those after your update gets completed.
Now, let's have a brief go through on what causes this error-
What are the Causes of Windows Update error 8024402c?
If you are wondering that this error occurs due to one particular cause, then, unfortunately, you are not right.
Several running programs on your computer while your Windows update might be the major of this error. But, this isn't the only thing responsible for your error.
Let's have a look at all possible reasons which are responsible to cause such error code like 08024402C :
1. Incorrect settings in the firewall,
2. Junk files,
3. Proxy server problems,
4. Downloading application from unknown sources,
5 LAN, connecting system with local networks and
6. Lagging time settings
Mostly these errors occur in Windows 7,8 or Vista devices, and Windows 10, but it's rare because windows 10 already has updated antivirus tools which OS from getting affected.
Well, this is about all possible cause for this error. Now, the question arises-
How to Fix Error code 0x8024402C in Windows Update?
If you are wondering that this interruption will waste your important hours to get fixed then unfortunately you are right. But only when you don't follow the correct steps to fix this.
To fix this unnecessary interruption, we have a list of all possible methods said as the proven method to fix it.
You should proceed to work with these methods in the order we have listed it. So, here we start this with :
A) Disable windows defender Firewall temporarily.
B) Removal of junk files
C) Fixing proxy server problems
D) Stop downloading the application from obscure sources
E) Automatic Settings Detection to be enabled
F) Enable windows to update troubleshooter
G) Don't ignore Updating notification popping up on your screen. And Configure Updates Client
For your convenience, we have explained all the above-mentioned methods, in brief, starting with-
1. Disable windows defender Firewall temporarily :
Turning the Firewall off might help to kick out this kind of errors.
First, search for Firewall.cpl in the search box and click when you come across the option.
Now, you will see a "Turn Windows Defender Firewall On or Off", click on this to open the customize settings tab.
In customize settings tab, disable Windows Defender Firewall option. This you will get in the "private network settings" and also in the "public network settings."
And after this, lastly, click on the Ok button.
2. Removal of Junks :
Junk file might be one of the major reason, why you are unable to search or install new updates.
Click on "Run as administrator" after typing "CMD" in the search box.
Click on Enter button.
Now, you have to type "cleanmgr" and after this click on the enter button.
Wait for the Scanner tool to scan your Operating system. Once the scanning is done click ok to clear all your caches and junks.
3. Fixing proxy server issues –
Search for Internet Options at Cortana's search box. Then click on the search button.
After the window open, there you will get to see a LAN settings option, click on it.
In tab Local Area Network, tick out the box near "Use a proxy server for your LAN".
Now, click on the "Advanced" button.
In the Advanced tab, clear the whole the complete text inside the rectangular box.
on OK button of Advanced tab.
4. Automatic Settings Detection to be enabled:
You might be unaware of how to get connected to the internet connection.
Get into the Internet Options.
Now, click on LAN setting after selecting the Connection tab.
In the LAN window, tick out the box beside the "Automatically detect settings" option.
Hit the OK button.
5. Enable windows update troubleshooter :
Click on "Start" button -> get into the "Settings" option.
Select Update & Security -> Troubleshoot.
In troubleshoot window, click on "Run the troubleshooter" button under "Windows Update" option.
6. Configure Updates Client :
If former steps didn't take any credit, then here we have last and ultimate way, but Note: If this last step cause damage or hampers your system then we are not responsible as modification and variation with Windows Registry may harm your system.
For this just follow the steps below-
Type "Registry Editor" on Windows search bar and select the resulting option.
Hit on OK. Then marks yes in "User Account Control Prompt".
In Registry Editor, go to HKEY_LOCAL_MACHINE -> SOFTWARE -> Policies -> Microsoft -> Windows – > Windows Update – > AU
Hit for twice on "Use WU Serve" right beside the AU key pane. Enter ZERO(0) in the Value Data box and click OK.
Now, try to install the update after closing the "Registry Editor" window.
These are all possible and proven methods to fix this error 0x8024402C.
In the End,
We hope any of these methods will help you out fixing your error as quickly as possible. We keep on updating new methods, hence, tie a knot with us to get notified of any further changes we gave.
Nobody likes interruption while updating their Windows, and it's irritating if this 0x8024402C error suddenly pops up. Well, after this read we think you might never going to worry about this error further.
But, what's important is your feedback, let us know how this read helped you out and which method worked benefited you in the comments section below. 
Read more: How Do You Increase Views On YouTube Organic?