Avast Behavior Shield is an inbuilt protection feature That monitor's real time processes on your computer and alert you whenever you get a malicious file.
Whenever you get any malicious file on your computer, Behavior Shield checks the avast database and if it detect's it similar to other known threats, it will block or remove that file from your computer.
This feature is set to provide medium level protection by default, and I recommend you to keep this feature always on. You can turn this feature if you are a administrator or you have knowledge of malicious script's or malware's.
You can always see avast Behavior shield inside Task Manager running with name "aswidsagenta.exe". It does not impact your computer performance, but you can always disable it by following below steps.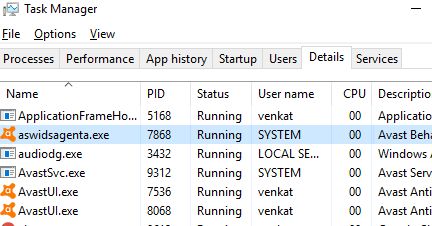 Steps to Disable Avast Behavior shield
Open your Avast antivirus.
Go to Settings and then click Components,
Now Double click on Behavior Shield.

Now click on Green toggle and select Stop permanently or whatever time frame you want.
Except the warning by clicking yes button and then click ok.
That's it, now you have successfully disabled avast behavior shield. You will later be warned by antivirus that 'Behavior shield is off'  You can enable it by following the same process. If you don't want to re-enable it, you can click ignore button.
You may also like to read following avast related article's by us:
How to disable deepscreen on avast antivirus in 2019.
How to whitelist program's in avast.
If you have any question's about on our current article about avast behavior shield, you can comment down your question below in the comment section, I will respond to your commend as soon as i can. Thanks.