Overview:
When you have a laptop, it is most convenient for most of the people than compared to a tied desk with an unportable computer. Students, business owners and people from other walks of life depend on their notebooks to complete their work and entertain.
When you have a good laptop, it can be as powerful as you wish it to be. And it is one of the reasons laptops are one of the most expensive items. And hence, you should be practising some 'easy to follow' rules to help you increase the life of your laptop for long. Read on this article and know more!
If you are going to travel with your laptop, then you should ensure to remove any CDs, DVDs and thumb drives from it. You should remove all and protect them properly. Also, it should be your duty to turn off your notebook and even don't put it in standby or sleep mode.
Extreme temperature and climatic swings can be bad for your Dell laptop or any other brand and can affect it big time. If you bring out your laptop indoors on an icy day, you must not switch it on until it has the chance to warm up and reach the warm temperature. If it's snowy outside, then it may take some time, and you must wait if you don't want your notebook to not work in the long run for you.
Be informed to know that the screen of your laptop is one of the most delicate and at-risk parts. It can be cracked and even get damaged in the blink of the eye. Hence, you should clean it only using authorized solutions and monitor wipes. You must not touch the screen with pens or any pointer that may scratch the surface easily.
Ensure not to put your laptop closer to appliances that generate a strong magnetic field. Yes, don't put it near devices such as TVs, large speakers, even refrigerators. Also, you should not put your smartphone on the top of the notebook at a time when both are working.
Keep the lid closed as much as you can. It will help the number of dust particles that can accumulate on your desktop. It can also save battery life and keeps off the keyboard from accidental tea/coffee spill. And it is one of the leading causes of laptop damages.
You should know that a laptop can heat up more than a desktop computer. Hence, you should ensure not to set one on a pillow, blanket and another non-flat surface as they prevent adequate ventilation.
You should always ensure that you carry your notebook in a good-quality laptop bag. It is vital to do as it can provide protection against drops and jostles. Also, don't give in to your habit of putting anything on it.
Set up strong passwords and share it only with your family members so that they can access your laptop. But, if you don't want your data to become easily vulnerable, refrain from setting passwords such as ABDC or simpler ones. It is because any fraudsters can guess it easily and steal your data on a laptop if it's stolen.
Read also: 5 Tips to Keep Your Business Safe Online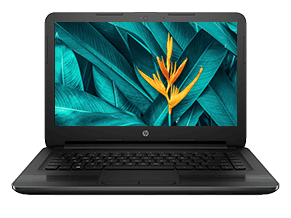 With the help of these discussed simple tips, you can easily keep your HP laptop and other brands running and working for many years to come. It will also help you avoid the situation of spending around Rs.25,000-30,000 or more for a replacement. People using even more expensive laptops such as gaming Asus laptops and more should be more careful while using.
Buying a laptop is a costly investment, and you may not be in a position to pay for it at once as it may hurt your monthly outlays.
Hence, when you are looking to buy a brand new laptop without hurting your expenses, then it is possible to opt for an easy payment solution.
You can now divide the cost of your laptop over a possible tenor and pay only fixed EMIs. The facility is now available on the Bajaj Finserv EMI Network in India.
Read miore: The Best Lie Detector Apps