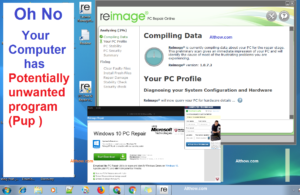 Reimage repair is a Potentially unwanted program (Pup) Which shows lot's of annoying popups and ads to it's users. Some Reputed Anti-malware Software's Such as Malwarebytes, AdwCleaner and Mcafee also has detected this software as a Virus/Pop. It get's installed on your computer with some freeware software's or viruses. Reimage repair can show you popups on your browsers and redirect you to some annoying pages. Reimage repair gets difficult to uninstall for its users due to it's complicated and tricky procedure. In this article i will be providing you  step by step tutorial about How to uninstall reimage repair in windows 7, Windows 8 or Windows 10.
How to Remove/Uninstall Reimage repair in Windows
Follow Below step by step tutorial to uninstall reimage repair from your computer.
1. Create a system restore point.
Before starting to do any changes on your computer, Make sure you create a restore point. Restore point will help you to restore your files and settings later if you do anything wrong during the process. You can open below article to learn how to create a restore point.

2. Uninstall Reimage repair from windows Computer.
Follow Below steps to uninstall reimage repair.
Click on Windows Button on your computer and search for program and features inside the search box.

Search for program and features

Now highlight the Reimage repair and click Uninstall/Change.

Remove Reimage Repair

Now follow the instructions which comes on your screen and you are done.

Reimage repair uninstalled
4. Remove Reimage Extensions from Your Browsers.
After removing Reimage repair software, there will be some extensions left on your computer which you need to uninstall. Below Articles will help you to remove Unwanted Extensions(Plugins) from your browsers.
5. Change Default Search engine and Default homepage.
If your default search engine or default homepage is other then google, yahoo, bing or duckduckgo, then you should change it back to one of above right now. May be They are fake search engines, which are showing you popups and redirecting you to Sammy pages. Below articles will help you to change your Default Search Engine and Homepage.
6. Reset your Browsers.
If you want to make sure that your browser is clean, you can reset all your browsers. Below article will help you resetting your browsers.
7. Clean System with Malwarebytes and AdwCleaner.
Once you have done all manual steps, now its time to remove any leftover adware,spyware or malware from your pc. You need to run Malwarebytes and AdwCleaner to remove any kind of Malware/adware left on your computer. Below articles will help you to clean your system with malwarebytes and AdwCleaner.
8. Fix issues with CCleaner.
After Cleaning your system with tools such as Malwrebytes and AdwCleaner to remove viruses such Reimage repair there will be some invalid Registry values and junk files left on your computer. They can come up with any issue in the future, So you need to clean them with CCleaner. Below article will help you to optimize your computer with CCleaner.
That's it.
Thanks for reading my artile about how to remove/uninstall reimage repair from your pc. If you have some questions, feel free to comment below.