When people aren't sure about the quality of a product or a brand's reputation, they turn to online reviews to figure out how much they should trust a business. Although excellent reports draw in new customers, you can also utilize negative reviews to show your attention to detail and willingness to work with even the most demanding customers.
In a survey of consumers, BrightLocal found that 91% of 18-to-34-year-olds believe online reviews as much as they would a recommendation from someone they know. Once you realize how many people base part of their buying decisions on feedback from peers, you realize just how powerful every review you receive is.
Gathering feedback is relatively straightforward. Ask those who've bought from you to leave a few thoughts. However, you must then utilize those words for your marketing strategy. Here are seven ways to harness the power of an online review.
1. Claim Google My Business
People often turn to Google when researching local businesses. Start by setting up your online presence on the platform. Doing so has more advantages than just tracking and sharing reviews, and you'll gain the ability to embed comments on your website easily.
You can also add ways of reaching you. Customers who can contact a business with complaints are more likely to resolve the issue before taking to online commentary. Simply making it easier to get in touch may reduce the number of negative reviews you receive.
2. Showcase the Best Reviews
If you want to draw in potential customers, share the thoughts of some of your top customers. Create a review page and highlight some of your five-star reviews from Google, Facebook and other sources. Pull out a short snippet of the review, include who left the information and where, and showcase the number of stars.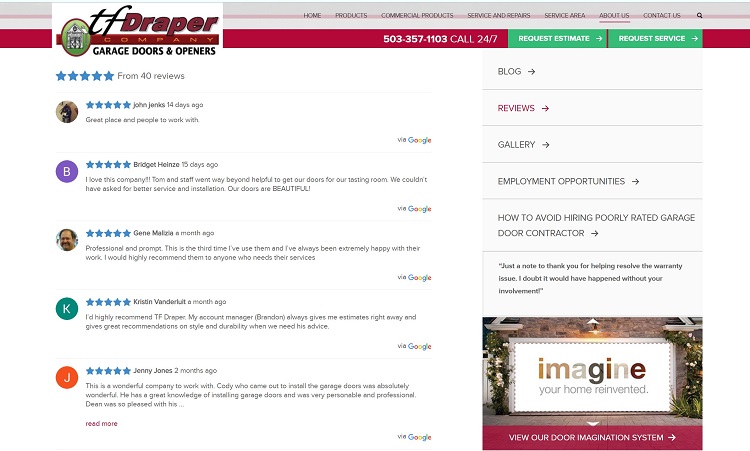 TF Draper Company is a small, family-owned business that prides themselves on their customer care. They set up a reviews page to showcase what their clients say about them. Note that they use the same star rating as Google, and they note when a review is from that site or another. By placing feedback on a page, they highlight what's great about their brand.
3. Pay Attention to Negative Reviews
Look at negative reviews as a way to improve your brand. If someone takes the time to post a complaint online, your company or someone in it must aggravate them. Start by reaching out to them on the platform where they left the review. Doing so shows you care about their experience and also shows others you care about your reputation.
If the issue is due to some procedure you can modify, then do so. Let them know you've fixed the problem for the future and ask how you can make the situation better. A negative review can turn into a positive one when the person updates it saying you made things right.
4. Ask for Reviews
In the same BrightLocal survey mentioned above, many people wouldn't consider buying from a brand until it has 34 reviews or more. If your company is new, you may lack review numbers. Contact your top customers and invite them to post their thoughts about your company. Many will comply and be happy to help you spread the word.
Rockwell Trading devotes a page to asking for reviews from their clients. They offer easy links to a handful of review sites. They also explain some of the little details, such as needing a Yelp account to leave a review.
5. Promote the Negative
You might wonder why you'd want to highlight negative comments about your company. People appreciate authentic businesses. You show you are real and make mistakes but learn from them.
So highlight a negative review someone left and how you fixed the problem. Explain what you're doing going forward to resolve the issue and why the potential customer's experience will be better due to your past missteps.
6. Offer Rewards
Want to gather more positive reviews? Give clients an incentive to leave feedback on one of the review sites or your website. Explain what the process is.
You should never tell people what kind of review to leave, however. Don't specify whether it needs to be positive, for example. Doing so seems manipulative and may backfire on you. However, there's nothing wrong with encouraging those who love your products to say so.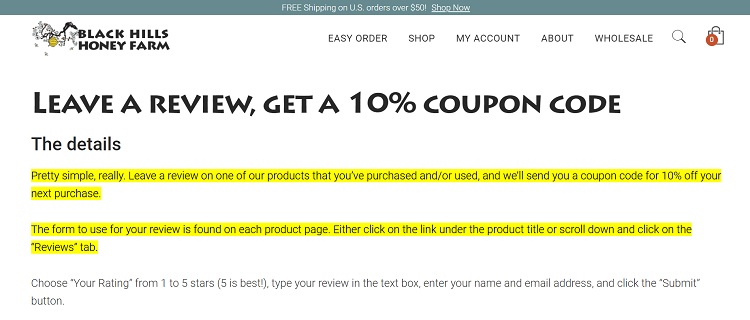 Black Hills Honey Farm invites customers to share a review of any product they've tried. If they do so and include their email address, they'll get a 10% off coupon on their next purchase.
The perk provides an incentive to leave a review but doesn't ask for any particular review type. The person can include their thoughts freely. However, those interested in a coupon for a future order likely already love the company and product.
7. Respond to Reviews
When you take the time to respond to your customers, you show that you care about them even after you have their money. Thank those who leave good reviews. Work to fix issues for those who leave poor ones.
Brands such as Wendy's do an excellent job creating an online personality to interact with the public. If someone posts a comment about McDonald's, the Wendy's account has a snarky comeback that always points people to how their fast food is better.
Practice Patience
It takes time to gather great online reviews. Utilizing fake review services or pushing your customers too hard to leave you feedback may backfire and damage your reputation. Instead, ask for reviews, work with the ones you have, encourage more feedback, and be patient as you collect the proof you need of what a fantastic brand looks like.
Lexie is an IoT enthusiast, an aspiring Olympic curler, and a web designer. She enjoys hiking with her Goldendoodle and checking out local flea markets. Visit her design blog, Design Roast, and connect with her on Twitter @lexieludesigner.
Read more:Fixed: Yoast Readability analysis and SEO Analysis not working issue