Clean design, minimalist graphics and simple colors can go a long way, but not every brand can sum themselves up with that kind of design. Instead, you may want to choose a high-quality hero image that dominates your landing page and provides a bold description of what your company is all about.
After all, a picture is worth a thousand words — and the right image can make a big impression on your landing pages, where you want to communicate your message as quickly as possible.
These five tips and strategies show how you can choose a landing page image that will convince your customers of your company's value and strengthen your brand:
1. Avoid Contrast With Your Text
Text placed directly over images can be hard to read. When selecting a picture, make sure you pick one that won't contrast with your landing page copy. Otherwise, you may find that your visitors can't really read about what your business can offer.
If you've found the perfect image, but it isn't working with your text, simple tweaks to your site's design can help. An outline stroke around the copy text or a background box can make things a little easier to read. You can also try blurring or darkening the image. Reducing the visual complexity of the background photo can help make your text easier to read.
2. Creatively Highlight Your Services
A landing page makes a proposition. It's trying to convince your audience that your business's products or services can solve a problem they have. It's also trying to explain how your offerings are better than buying nothing or shopping with a competitor.
For this reason, your landing page should clearly show off what you're trying to sell — such as a landing page image that creatively highlights your services.
Colonial Excavating, an excavation, landscaping and hardscaping company based in Stillwater, New York, offers an example of how you could do this.
The page background is an extremely bold image of some heavy construction equipment, illuminated with dramatic lighting. In combination with the landing page copy, the image ensures there's no confusion about what this brand can offer. The picture, which is in line with the bold text and page design, also subtly highlights the rest of the webpage's look.
3. Complement Your Color Scheme
The best image for a landing page will line up with every element of your site's overall look. If the photo's color scheme clashes with your site's palette, it can seem out of place or jarring — or just inconsistent with the rest of your website's look and design. However, if you match the color scheme too closely, you may also risk using an image that blends into the page and doesn't make much of an impression.
Selecting an image that truly complements your color scheme will help it feel more natural and add some visual excitement or interest to the page.
Square, the payment processing provider, displays some of this color matching in action.
The images aren't a 100% match for Square's simpler color scheme of blues and neutrals. However, despite the variation in color, they don't look odd or out of place. Each picture has at least a splash of the site's blue, which helps them fit within the page's overall look. The central image, having the most blue, sticks out of the trio. Altogether, the three pictures provide some visual interest without being distracting.
Using images like these that play off your color scheme can help you fit a photo into your page, maximizing the impact it may have.
4. Use an Image With Meaning
The right image can have a big emotional impact on your audience. Picking a picture with some extra meaning can help you describe the value of your products — or your services, if you're not selling a physical item.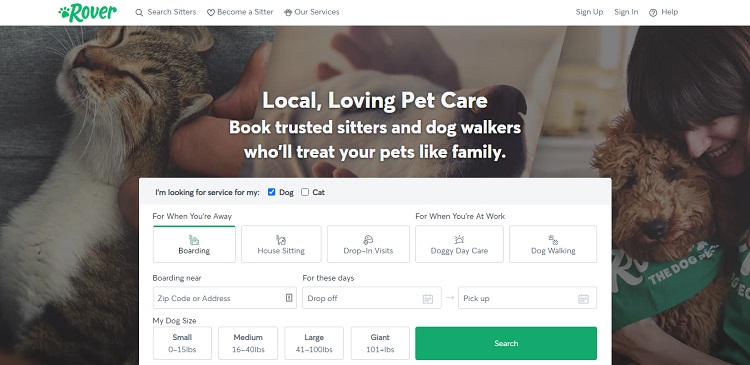 Rover, the developer of a pet sitting and dog walking platform and app, shows how you can use images to create meaning and emotion on a landing page.
The background images of happy animals and the people caring for them reinforce the idea that customers can find gig workers on the app to care for their pets while they're at work or out of town. Rover's choice of images is a good example of how photos can provide an emotional impact that makes your service seem more trustworthy or compelling.
5. Try Something Unique
While photos can have a lot of power on a landing page, not every image will stand out. Just like with common landing page phrases — like "high-quality" or "excellent customer service" — people can easily tune out an image they feel they've seen before.
As a result, the most literal or appropriate stock image may not work so well. Even if customers haven't literally seen the picture before, it may not grab their attention if it feels uninteresting or generic.
When using images, you want one that fits into your page's context and can be reliably interpreted in more or less the same way by your visitors. However, that doesn't mean you can't take advantage of interesting images.
Selecting pictures that complement your site layout or use familiar imagery interestingly may make your landing page a little more compelling. Even if a certain photo isn't the first or most obvious choice, that doesn't mean it isn't the right one for your landing page.
Picking the Best Landing Page Image for Your Brand
The right landing page image can make a world of difference in grabbing your audience's attention. If you can complement your color scheme, use emotional images or find a graphic that's both unique and relevant, you can create a landing page that quickly draws in a visitor while explaining what your company can offer.
Lexie is an IoT enthusiast, an aspiring Olympic curler, and a web designer. She enjoys hiking with her Goldendoodle and checking out local flea markets. Visit her design blog, Design Roast, and connect with her on Twitter @lexieludesigner.
Read more: The Best Lie Detector Apps