Avast DeepScreen also known as Deep Scan or DeepScan is an advanced and Useful feature inside avast antivirus software. DeepScreen feature detects that, the application you are running on your computer is malicious or not. Avast check it's database and detect's that the application you are running is not being used commonly by other Avast users. After that DeepScreen start scanning the application to make sure that it is safe. Sometime's user's start getting some difficulties with avast deepscreen, such as slow computer, keeps scaning applications and do not allow you to open trusted applications. If you are also one of those user's we will teach you How to Disable DeepScreen on avast in 2019 to resolve these issues.
DeepScreen feature comes with all versions of Avast products, e.g. Avast internet security, Avast Premier and Avast pro. The removal process for Avast DeepScreen will be always the same, no matter what version of avast you are using.
Related articles: How to uninstall url:mal, How to uninstall avast and how to disable avast antivirus temporarily.
Steps to Disable DeepScreen on Avast
Follow Below steps, to Disable DeepScreen on avast step by step.
Open Your Avast product. (e.g. Avast internet security, Avast premier or Avast antivirus.)
Click Settings and then go to the General tab.
Now UnCheck Enable DeepScreen checkbox and press Ok button.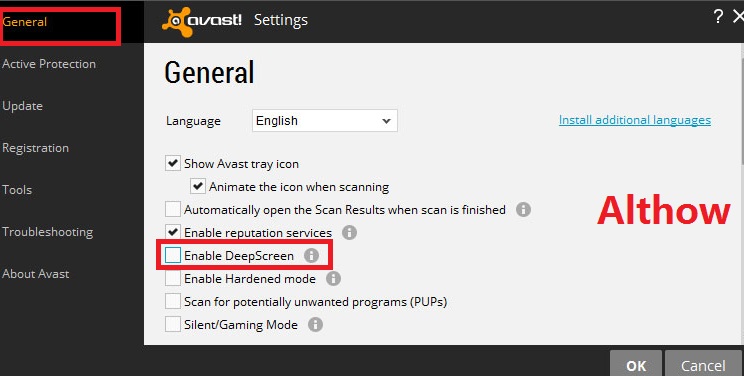 That's it, Now you have sucessfuly turned off avast deepscreen. To reinable the Deepscreen you can simply check the box again. If you have more question's or query about my article How to disable deepscreen on avast feel free to let me know in the comment section below. You can also read my article's about How to disable avast firewall in 2019 and How to disable self protection module in avast. Have a good day, See you in my next article.