In, today's world web hosting has became an crucial part in getting your business online so to get it live and visible on the internet web hosting plays an important role in displaying your website in the internet world.
So, web hosting is as important for that there are many hosting companies from where you can get your hosting setup and start your hosting journey. But, if you are looking for safety and security for your website to handle too much traffic than cloud hosting would be an perfect type of hosting I can suggest you as per resources and security is concerned.
About Cloud hosting –
Cloud hosting is the type of hosting with full pack of features and resources available by them for your hosting it includes the applications and websites accessible using cloud resources.
Unlike in traditional hosting, solutions are not deployed on a single server you get your private space and resource. Instead, a network you get physical and connected virtual and physical cloud servers that are hosts on the application or website, ensuring greater flexibility and scalability. WordPress hosting cloud is one of the better ways to get for your website is safe and more secured.
You get good amount to scale your resources and only need to pay as per your usage in Cloud hosting. Your data is not shared with any other so privacy is obviously the main factor in this Cloud hosting.
Cloud hosting with Miles Web –
Miles Web is one of the highly well reputed web hosting company which includes various hosting services from Shared hosting to Cheap Cloud hosting services. They offer server locations in India, UK, USA, Australia, Canada and Singapore. Miles Web has around 20+ customers that are associated with Miles Web hosts.
So, indeed they are one of the better players in Hosting Industry. As you know Cloud hosting is one of the modern hosting used on large basis for better security and hosting sites which gives you good round of resources to use.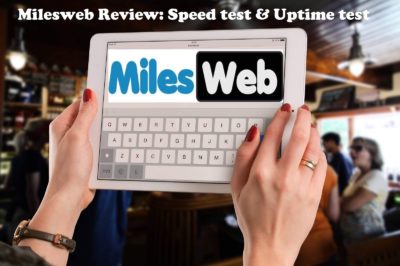 Y? Cloud hosting –
Flexibility
Pay as per usage
Reliability
Security
Manages High Traffic
Performance
Cloud hosting by Miles Web –
They have certified team in managing your AWS. You can enhance your AWS server so which offers high security, power and that are easy to use.
With Miles Web hosting your server related tasks such as updates, patching and other related issues are managed by their teams so your time is automatically saved and you can invest that time in looking after your business.
They are available for you 24×7 support which is best for your website in case you have any sudden problems regarding any issues they are ready to sort out your issues immediately by initiating live chat or email their team.
Their team is aware of the facts of server issues so they monitor and have look at traffic spikes and infections and other issues including that can harm your server. They monitor it very well and solve your query in quick time.
Optimization and Growth –
AWS server is enhanced together for better performance, expenditure and security required. With AWS your site get good control and better performance which enhances the growth and performance of your site and helps your business to get a good growth.
With Miles Web AWS your productivity and profits is good to generate as their team helps you to make your work easy by allowing the site to run smoothly. You need not have to worry about AWS cloud server administration.
They have server location in India, USA, UK, Canada, Australia and Singapore you can select your server location accordingly to your target audience. Closer the server location that would be better for your website as it is beneficial to load and run which helps in proper up time.
If you want to migrate your website from Miles Web then the migration process is free as they have their expert team who does the migration process they also ensure that your migration is process safely and securely even you are hosted on other hosting you can initiate live chat with them then their team makes our work properly executed.
A fully managed cloud provides you the following benefits :
1) They have professional technical team to manage your servers.
2) The system admin, who is responsible for all the configuration and management work of the cloud server.
3) They deliver a better experience to customers.
4) Technical experts for server monitoring tasks.
Final Verdict –
Though we have mentioned the points that are considered and are much valuable than it seems so because the cloud environment is something that creates a better scalability and which can manage high traffic visitors on your site without any harm so it is surely a terrific way to get your hosting on Cloud hosting with Miles Web and ensure better Up time and Security with blazing fast servers.
You won' feel regret hosting with Miles Web as they are class in this services.