Today i'm here to discuss on the topic How to build links by commenting on blogs and forums? As we all know that to increase ranking of a website on google search engine We need high quality backlinks. So, Question arise how to create backlinks of high quality which will help to boost search engine ranking.
In this article, you'll be able to learn –
how to do blog commenting in seo

what is blog commenting

blog commenting sites

blog commenting tips

blog commenting service

blog commenting examples

how to find blogs to comment
Commenting on blogs and posting on forums are two good ways to get backlinks to your website, but you need to be careful to adhere to the proper etiquette and never overuse this technique. If you start spamming blogs and forums with worthless comments, it won't get you anywhere because most of these sites are moderated and your comment will be deleted, along with your link.
Commenting on blogs or Blog commenting is a popular strategy for link building, but there is some debate in the SEO community about whether links from no follow blogs are counted or not. If you want to be sure that your link carries weight, then you need to find do follow blogs for blog commenting. The easiest way to do this is to look for telltale footprints that are frequently found on do follow blogs.
An example of this is the U Comment I Follow logo. Website owners who display this image on their site are making it known that they have modified their sites to use do follow links in the comments. The easiest way to find these sites is to search for U Comment I Follow in Google images. You can also search for the filenames u-comment-i-follow.jpg or u-comment-i-follow.gif. To narrow the results down a bit, try adding your keyword to the search phrase. There are also many lists of dofollow blogs online, which you can find by searching for dofollow blogs or dofollow blogs list. Some of these sites are more up-to-date than others, so you may have to look through several of them before you find a good list. Many of the sites that get put on these lists end up getting hammered with comment spam and convert their blogs back to nofollow.
Commenting for good, not for evil –
When using blog commenting to get links, you should never spam. Always read the post and make a useful, thoughtful comment that is directly related to the post. Blog comments should always be about the post, never about you. If you try to sell yourself or your site in a blog comment, it is likely to be deleted. Your comment needs to say something more than Thanks! or Great post. Generic comments like these are frequently left by spammers and experienced bloggers will delete them immediately. Pay attention to spelling and grammar when writing your comment. People who read the post and find it valuable will often read through the comments too. If they find your comment helpful, they might click through to your website. Your comment is the reader's first impression of you and your site, so make it a good one.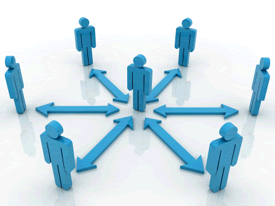 There is some disagreement among website owners about whether it is acceptable etiquette to use your keyword phrase in the name field so that you will get the anchor text you want. Some bloggers delete these comments, while others allow them. You can usually get a good idea of whether it is acceptable on a certain blog by checking to see whether there are other comments published that use keywords in place of a name. Make sure you use the URL field for your link. Don't paste it directly into the comment text box. This is usually viewed as spam.
However, if you are linking to a specific article and explain how it is relevant, it may be considered acceptable. Whatever you do, don't comment on several posts on one site at the same time. This will almost undoubtedly be viewed as comment spam and all of your links will be deleted.