If you are looking for ways to invest in the stock, you are in the right place. No matter whether you are checking your stock portfolio just one time in a day or a year, it is important to download the best stock market apps, which will help to keep you updated on some of the new market activity that is happening. Even though Google has dropped its Google Finance application in the year 2015, third-party developers fill a void with the stock market application alternatives, which provide a wide range of features for casual investors and diligent traders. You just have expected and see stock tickers, latest investment news, as well as powerful tools for the analysis with all these amazing picks.
High-speed internet & handy mobile applications have actually made traders' life very simple, faster as well as efficient. The financial applications help traders to be well informed & ready all time. Right from checking the real-time market cost of any stock, making the virtual portfolio, drawing out stock charts, following the market trends for tracking down the portfolio; and everything is available from the tablet or smartphone. Thus, now I will be presenting you with the top 8 Stock Market Apps, which can make the stock research simple. Furthermore, all these apps listed are totally free. Thus, stay with me for another 5 minutes where we will check out some of the top apps where you will have a safe investment in stock research.
If you want to take pride in choosing the most trusted name in the financial industry, then Bloomberg powers the android application in helping the traders to monitor all types of global stocks. This app allows you to customize the account and get what you want within minutes. This allows the users to create the stock portfolio very easily.
Second in our list is Jstock that is integrating the portfolio tracker with stock market news application, JStock also offers you with a simple way of learning more about this stock market as well as track down companies that you really care about. Efficient and simple, the app delivers some of the high-class analysis as well as places indices at the finger trip. They provide the customizable snapshots of this market. 
JStock app for Android provides stock market news, dividend management, portfolio management, charting, and watchlists. JStock supports around 28 markets with the individual stock charts, which go back ten years. The stock charts also show gains and losses and present bid rates, and there is the home widget that will help you to stay on the top of the stocks. You will set down the stock cost alerts as well as see the summary of the portfolio within minutes.
Next is Yahoo Finance and it is the most powerful application available for the stock market news and other important stuff. The app covers some major use cases. So, viewers will be able to view as well as keep proper track of different stock costs that are available in the portfolio. This app has got some finance and business news in handy that makes it simple to read. This app also allows you to track down the commodities, currencies, as well as all types of information easily. Lastly, you will just have to log in with the brokerage account & trade down the stocks. 
This makes it the best all-in-one stock trading solution for some of the major requirements of the stock trader. It is a bit bulky as well as buggy, and there are not any serious issues that you will find in this app. This app has got some ads, otherwise, it is totally free to use. After you download the app on your phone, you have to change its settings. In an area setting, you have to choose 'India (English)' to get the latest updates about the stock market in India. This simple and dynamic user-friendly interface makes this app the best apps in the stock market research.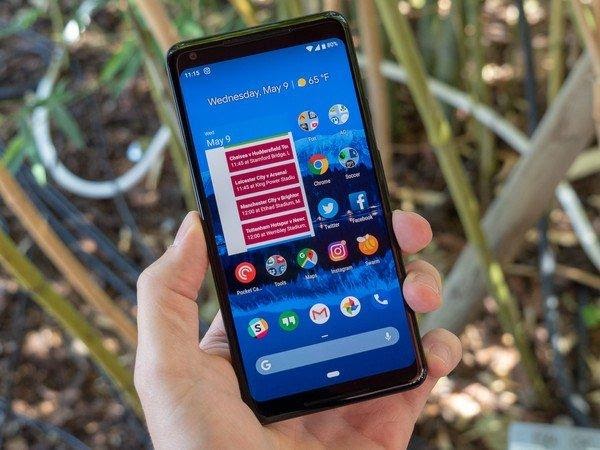 My Stocks Portfolio is one feature-rich application that provides real-time quotes as well as unlimited portfolios, that comes in very handy and detailed charts with news makes it the best app. The interactive and full-screen stock charts will allow you to pinch or zoom and get complete details, and you will be able to set the price alerts, handle the portfolios, as well as see any kind of changes with time. Tap the stock symbol for getting some of the latest news besides costs or other data.
You can sync portfolios over various devices as well as back up the data over Google Drive and email. You also can set the password lock for protecting the information. You may also track down the cryptocurrency marketplace with the support for Litecoin, Ethereum, Bitcoin, or altcoins. The traders like a widget on the application, and you will remove ads just by paying an upgrade fee.
This is the latest stock market application out there in the market, comparatively speaking. The app has amazing information and design chops that will match well with your portfolio. On the top of the competent Material Design, this app includes the earnings statement calendar, real-time feed on stock rates, integration with Robinhood (in case you use the service), information on cryptocurrency, and curated lists of the potential investment opportunities. Also, there is the chat if you ever wish to talk this up with some other investors. It is the best one with nothing wrong with and totally free for use.
Are you looking to buy or track the stocks without giving out any fees, then Robinhood application has got you well covered with amazing features. Even though the app targets only the beginners, the app offers you access to the charts, market data, as well as financial market organization. In addition, the Robinhood application allows the traders to buy or sell cryptocurrencies like Bitcoin and Ethereum.
Feedly is the RSS reader and you will follow any kind of the business or market blog that you want. It includes large sluggers such as Bloomberg, Forbes, or others. The websites have got all in one app. But, Feedly is simpler, lighter, as well as has vastly lesser distractions. It is a good and clean method to get some of the latest news from the sources, which you really enjoy for the stock market news. Also, you may add over 100 sources over 3 individual feeds. You may pay the optional $5 every month if it is not enough for you. Its pro version comes with a better search as well as some extra features too.
Last but not least is Investing.com and it is one big source of the stock market news, prices, and information available easily. The app boasts more than 100,000 institutions over 70 global marketplaces. This makes it one of the best stock market apps today in its kind. News is from either Investing or from Reuters. In addition, you may manage the portfolio, check cryptocurrency costs, as well as do other stuff out there. The user interface is a bit easy for a number of information it provides you. It is otherwise one best option you can find in this range. It has got a free version that comes with some ads. You need to create your personal account for getting more features to enjoy. Its premium version will take away all ads and it is honestly not very expensive.
What makes the stock market app so simple?
The main reason why many people are installing the best stock market apps today is only that it is highly convenient compared to the traditional way. Earlier, people will have to contact the broker as well as tell them what stocks they would like to buy. Obviously, whereas this method has worked out earlier, and there are instances wherein the broker didn't rightly put money on a stock that the customer wanted. The technical issues will arise when people speak on the telephone line. With these amazing stock market applications, people have complete freedom of selecting the best stocks they would like to buy. This can give users confidence, particularly if they are a bit afraid about invest due to many hacking scandals that erupted from the past some years.
Conclusion
These are some of the best stock market apps developed to offer a lot of convenience to the traders. Creation of the technology has opened up some new opportunities for the people who want to make a good amount of earning via trading. This encouraged people who don't have any kind of prior experience for trying this out as well as learn some new techniques out there. Suppose you would like to begin learning how it works, you may download best stock apps and begin learning to know over how this works out. With time, you can develop some of the strategies that will turn you in the expert while it comes to trading.